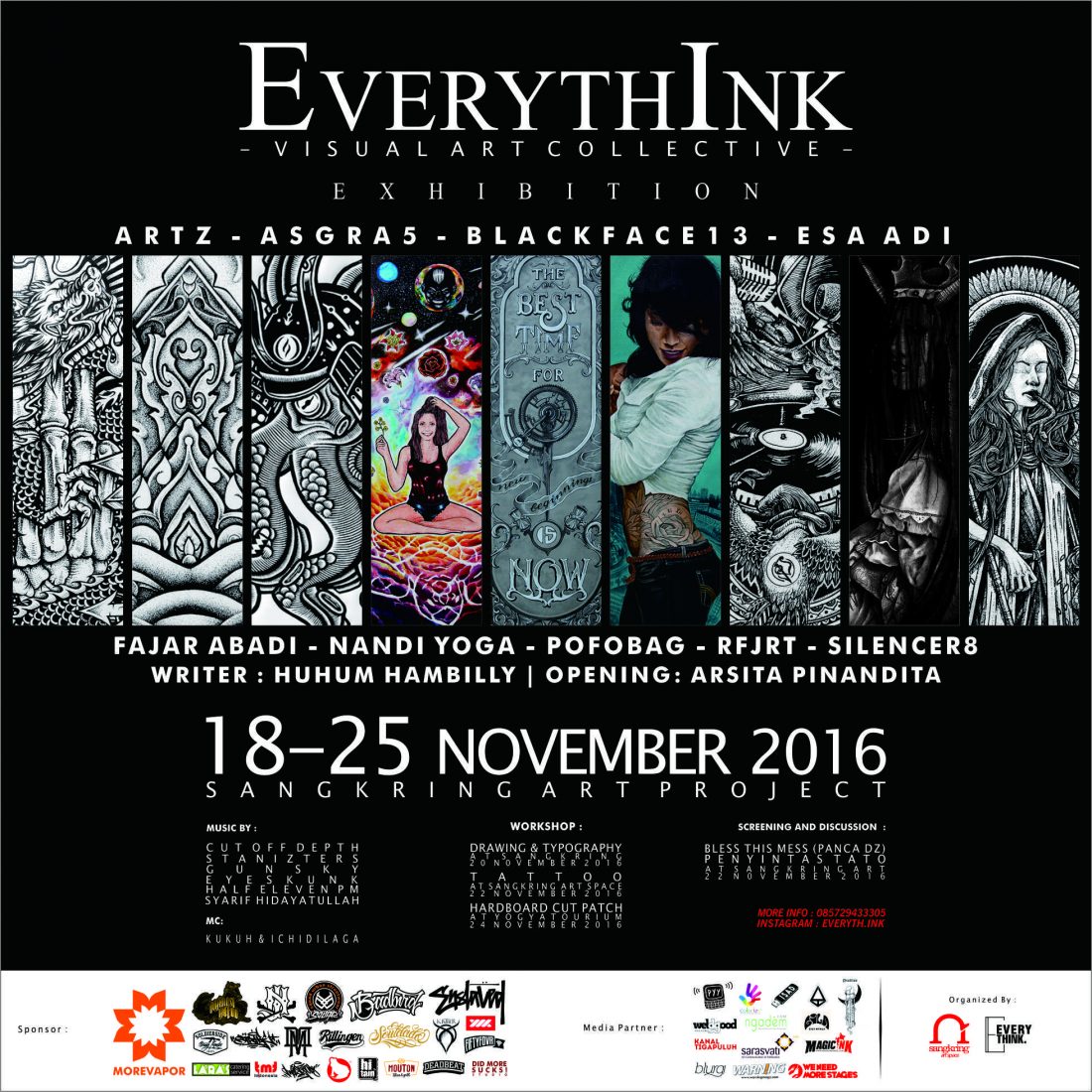 Everythink, Urban Art Exhibiton
Bentuk selebrasi dari sebuah proses kekaryaan seniman bisa macam-macam bentuknya. Salah satunya adalah membuat pameran yang mengambil titik temu mendasar yang bisa merangkul berbagai prinsip, teknik, maupun medium yang biasa digunakan. Berawal dari pertemuan akrab di jeda kerja-kerja seni industrialis yang menciptakan subkultur di kawasan urban, Everythink terbentuk. Sebagai sebuah kolektif, sekaligus judul pameran perdana mereka. Pameran bertajuk Everythink, Collective Art Exhibition ini akan diadakan pada 18-25 November 2016 di Sangkring Art Project, Nitiprayan, Bantul, Yogyakarta.
Everythink merangkul 9 seniman muda yang sebelumnya bergerak di berbagai bidang sub culture seperti musik, skate, skate, BMX, street art, crafter, desain grafis dan tato. Mereka adalah Artz, Asgra, Blackface13, Esa Adi, Fajar Abadi, Nandi Yoga, Pofobag, R Fajar, dan Silencer8. Sepak terjang mereka biisa ditrack lewat berbagai ilustrasi produk seperti cover album, kaos, tato, sampai grafiti di jalan. Pameran ini ditulis oleh Huhum Hambilly, selaku pegiat dan pengamat subkultur.
Keberagaman medium dan teknik mereka ini disatukan dalam kerangka 'pameran drawing'. Sebuah praktik yang menyublim dalam keberagaman kekaryaan mereka. 'Every' dalam tajuk pameran ini digunakan sebagai representasi keberagaman yang mereka usung, sementara 'Think' yang digubah dari 'Thing' menyatakan bentuk, yang kemudian memasukkan 'Ink' yang merupakan medium pokok dalam karya-karya pameran ini.
Malam pembukaan pameran Everythink akan dimeriahkan oleh beberapa penampil, yaitu Syarif Hidayatullah, Half Eleven PM, Stanizters dan Cut of Depth. Selama pameran berlangsung, Everythink juga akan hadir dalam berbagai bentuk kegiatan. Seperti Workshop Drawing and Typography yang akan diisi oleh peserta pameran, Workshop Patch-making oleh Esa Adi dan Aswina Gunari, Workshop Tattoo oleh Nandi Yoga (Mangsi Tattoo), dan Screening & Discussion yang akan memutar Bless This Mess dan Penyintas Tato dengan beberapa pembicara ciamik. Sampai kemudian malam penutupan pameran ini akan dipungkasi oleh pidato urban yang mencoba mengulas jalannya pameran Everythink ini, disertai oleh penampilan musik kembali oleh Gie, Afapika, dan Jeraharu.
EVERYTHINK
Collective Art Exhibition
18-25 November 2016
Sangkring Art Project
Jl. Nitiprayan no.88, Ngestiharjo, Kasihan, Bantul, Yogyakarta
Pameran:
ARTZ – ASGRA5 – BLACKFACE13 – ESA ADI – FAJAR ABADI – NANDI YOGA – POFOBAG – R FAJAR – SILINCER8
Penulis:
HUHUM HAMBILLY
Dibuka:
ARSITA PINANDITA
MC:
KUKUH & ICHIDILAGA
Musik:
SYARIF HIDAYATULLAH
HALF ELEVEN PM
DJ EYESKUNK
DJ GUNSKY
STANIZTERS
CUT OFF DEPTH
Program
Workshop Drawing & Typography
With: Everythink Artist
At Sangkring, 20 November 2016
Workshop Tattoo
At Sangkring, 22 November 2016
With: Nandi Yoga & Asgra5
Workshop Hardboard Cut Patch
With: Esa Adi & Aswin Gunari
At Yogyatourium, 24 November 2016
Screening and Discussion:
Documenter film: Bless This Mess & Penyintas Tato
With: Panca Dz
At Sangkring, 22 November 2016
More info: www.instagram.com/everyth.ink
Sponsor:
More Vapor | Mangsi Tattoo | Niat Jahat | Bad Bird Artwear | Squad Store | Enslaved | Soldierside | Strike | Diosdela Muertos | Rillingen | Souldado | Kimber | Laras Catering | Wadezig| Mouton | Fiftyfovr | Frogstone | Deadbeat | Wilddrop | Did More Sucks Studio
Production Partner:
Colorize Photography, Hitam Graphic, Zhufu Sound System
Program Partner:
Yogyatourium | Indonesian Subculture | Magic Ink | Toxic Tattoo Park | Mangsi Tattoo Studio
Media Partner:
Penahitam Arts | Magic Ink | Indonesian Street Art Database | Weldgod Magz | Warning Magz | Kind Magz | Majalah Sarasvati | Kanal Tigapuluh | Blurg | We Need More Stages | Pamit Yang2an | Ngadem.com
Organized:
SangkringArt X Everythink