Two Side of Medal – Mahdi Abdullah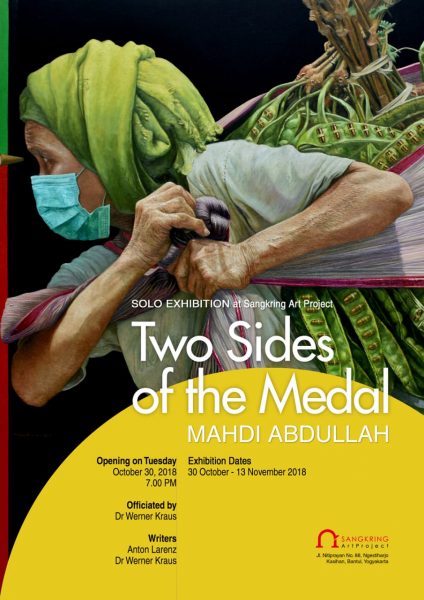 Mahdi Abdullah sebagai "Monumentasi" dengan mengetengahkan konsepsi mengenai ingatan kolektif, segenap benda-benda memorial, akhirnya membawa seni ke dalam sebuah arena baru, yakni lukisan sebagai "monumen sejarah". Oleh sebab itulah saya menyebut hasil kerja kreatifnya sebagai gaya "narasi-simbolik" yang bersifat pengendapan peristiwa. "Dia sampai pada kesimpulan bahwa ada dualisme mendasar dalam kehidupan manusia, struktur ganda yang mencakup setiap aktivitas manusia, tetapi sering lolos dari kesadaran kita. Kegelapan dan cahaya, tinggi dan rendah, kebaikan dan kejahatan adalah kesatuan yang tak mungkin berdiri sendiri. Seperti dua sisi mata uang, kita hanya dapat melihat satu sisi, untuk melihat sisi lainnya kita harus membalik koin tersebut" ungkap Anton Larenz dalam buku pameran "Two Sides of the Medal Mahdi Abdullah".
Pendidikan terakhirnya: Magister Seni di Institut Seni Indonesia (ISI) Yogyakarta (2010). Artist Residency di ICP Tokyo, Japan (2002). Artist Residency di Centre for Southeast Asian Art, Passau, Germany (2009) Lithography Course di Kultur Modell, Passau, Germany (2009). Karyanya telah dikoleksi oleh Modern Kuns Museum, Passau (Germany), Museum of Indonesian Art (Australia), GBI (Tokyo), OHD Museum, Magelang (Ind), Aceh Museum (Ind), Ali Hasymi Museum (Ind), Tsunami Museum (Ind), dan dikoleksi oleh beberapa galeri dan individu di Indonesia dan luar negeri.