Solo Exhibition The Logic of Ritual by I Made Djirna ogz Gajah Galery @ Sangkring Art Space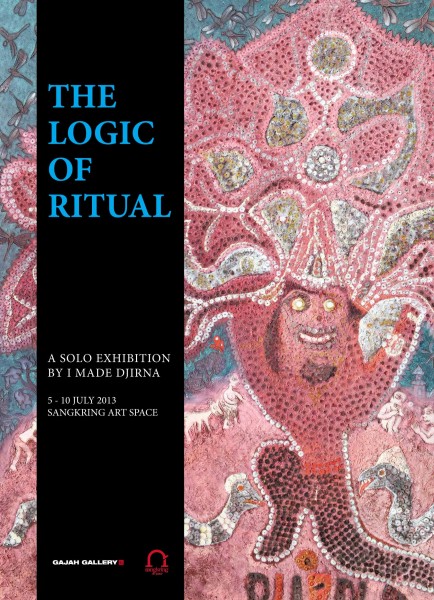 Solo Exhibition
I Made Djirna
"The Logic of Ritual"
Opening : Friday, Juli 5 2013  19.30 wib
Exhibition current until : Juli 10 2013
Writed : Wayan Kun Adnyana
The Logic of Ritual
Oleh
Wayan Kun Adnyana
            Praktik ritual menjadi indah karena membutuhkan beragam properti seni, sesaji, dan juga laku pertunjukan mistis. Sesungguhnya ini adalah jalan spiritual, langkah asketik yang privat, karena menyoal keyakinan hati paling pribadi. Seiring lahir kesadaran sosial, jalan spiritual menyemai ikatan komunal. Spiritualitas sosial tidak saja berbondong mencari tempat sunyi nan sakral, juga mencipta ruang-ruang kemeriahan baru yang profan. Tutur indah Ilahi yang di masa lalu ditembangkan sayup penuh berasa, kini terdengar menggelegar dengan pengeras suara. Jalan  ritual seperti menjadi fesyen populer. Teramat banyak komodifikasi properti seni ritual terjadi, seperti produksi dupa dengan label telah terpurifikasi mantra sakti, lomba busana ke pura, hingga reproduksi uang kepeng China kuno.
            Perupa Made Djirna (kelahiran 1957), yang secara sadar mendaki hari-hari untuk membaca dan merefleksi ulang potret ritual Bali masa kini.        Konsep "The Logic of Ritual" menyalin kerangka logika sensasi Deleuze ke dalam konteks; logika perupaan (kerangka representasi atas subyek), dan berurusan dengan logika sublime atas realitas ritual (konsep dan subjek representasi). Djirna sampai pada keputusan tanya ihwal bagaimana generasi Bali harus membeli uang kepeng palsu, semata untuk menjaga keyakinan ritual.  Tindakan ini menjadi awal aksi seni memungut uang kepeng tersebut yang dibiarkan berserak pasca ritual untuk dijadikan karya seni rupa.
            Djirna mencipta dan merumuskan sensasi optis karya justru dengan mentautkan subjek ritual berupa uang kepeng sebagai kolase. Hal ini merupakan bangunan logika sensasi yang genial. Beberapa pengrajin di Bali memang telah membuat kerajinan patung berbaju uang kepeng, tetapi mereka melakukan itu tidak dalam konteks pembertanyaan dan perumusan wacana kritis. Sementara Djirna tegas melandasi ekplorasi medium ini berbasis wacana dan juga konsep artistik visual. Kelebihan ini menjadikan karya-karya Djirna berakrobat memancing selera kritis sosial. Djirna merangkai uang kepeng menjadi baju dan kopiah ala pendekar silat. Begitu menyimak karya ini, seketika rasa kita mengiba kagum sekaligus tersindir. Busana uang kepeng karya Djirna tidak mungkin sejajar dengan sesaji ritual, baik dalam makna maupun presentasi. Tetapi kekaguman yang ditimbulkan nyaris melupakan jarak ritual dengan karya eksperimental Djirna ini. Satu keyakinan betapa ritual sesungguhnya menyulut inspirasi, jika aktor mampu berjarak sekaligus berkenan membuka ruang sunyi penuh tanya.
Made Djirna
The Logic of Ritual
By
Wayan Kun Adnyana
              A ritual practice is beautiful since it involves artistic props, offerings, and mystical performance. Essentially it is a spiritual path, a private ascetical walk, related to a deep personal conviction.  Along with the rise of social awareness, spiritual paths begin to generate communal ties. Social spirituality is not only about pilgrimages to secluded sacred places, but also about creating new spaces for more profane celebrations. The Divine messages, which in the past were sung melodiously full of devotion, are now amplified raucously through loudspeakers. The ritual path is converted into popular fashions. Numerous commodifications of artistic ritual props take place, such as the production of incense sticks carrying label of being sanctified with powerful mantras; fashion competition on best temple dress; and poorly- reproduced old Chinese coins.
            The artist Made Djirna (born in 1957) who has been consciously scaling his days reading and reflecting on the reality of contemporary Balinese rituals. "The Logic of Ritual" concept transcribes into context Deleuze's framework of the logic of sensation; the logic of visualization (a representation framework of a subject), and deals with the logic of sublime of ritual's reality (concept and subject representation). Djirna arrives at a questioning decision on how Balinese buy fake Chinese coins only to maintain conviction on rituals. This leads him to start collecting those coins that are left scattered after rituals and turn them into art works.
Djirna creates and formulates the optical sensation of his works simply by attaching together ritual subject such as the Chinese coins into a collage. This is a genuine construct of the logic of sensation. Several craftsmen in Bali have created wooden sculptures wearing Chinese coins attire, but they do so not in the context of questioning and formulating a critical discourse. Meanwhile, Djirna very clearly based his exploration of the medium on a discourse and visual artistic concept. This special gift makes Djirna's works acrobatically invites the appetite for social critic. Djirna arranges the Chinese coins into a martial art fighter's attire and head gear. Observing closely this work, we at once feel compassionate admiration and mocked. Djirna's Chinese coins attire can not compared to ritual offering, neither in meaning nor in presentation. Nonetheless, the awe it creates nearly nullifies the distance between ritual and his experimental works. A conviction of how rituals essentially instigate inspiration, if the actor is able to take a distance and simultaneously is willing to open the wondrous silent space.